Journal Menu
About this Journal
Find Issues
For Contributors
Current Issue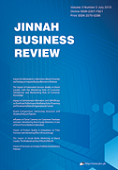 Date: &nbspJanuary 2021
Volume No: &nbsp10
Issue No: &nbsp1
Online ISSN: &nbsp2307-7921
Table of Contents
Research Articles
Impact of Workplace Bullying on Employee Cynicism by Considering Emotional Labor as a Mediator and Core Self-Evaluation as a Moderator
U. Yasmin
Download PDF
---
Corporate Governance and Bank Liquidity Creation in Nigeria: Panel Vector Error Correction
Y. A. Soyebo & M. I. Bamidele
Download PDF
---
How social media influence the customers buying behavior during Covid-19? Evidence from Pakistan.
Z. Bashir, M. Mansha & W. Raja
Download PDF
---
Portfolio Based Style Analysis of Equity Mutual Funds in Pakistan
U. Azam , T. Awan , R. Bibi
Download PDF
---
Style analysis, Portfolio Characteristics, Open-ended Equity Funds
G. Gunarso
Download PDF
---
Impact of Sensory Marketing on Purchase Intention: Mediated Role of Sensory Experience and Moderated Role of Switching Cost
F. Ahmad, & A. Shoaib
Download PDF
---
The Effects of High-Performance Work Practices on Turnover Intention with Mediating Role of Psychological Contract Breach: A Case of IT Firms in Oman.
M. Tahir
Download PDF
---
Measuring Performance of university Employees: A Hard skill and Soft Skill Analysis.
A. Sial, A. Arslan
Download PDF
---